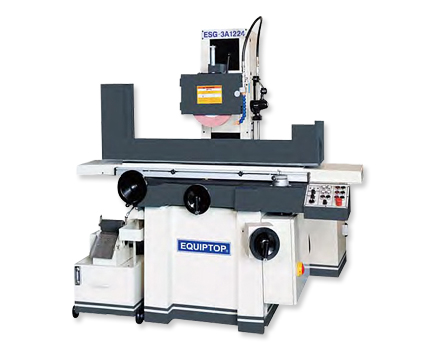 > Semi-automatic
ESG-3A1224
SPECIFICATIONS:
1A: Longitudinal Hydraulic. 
2A: Longitudinal Hydraulic And Crossfeed Motorized. 
3A: Longitudinal Hydraulic, Crossfeed Motorized And Rapid Up/Down Motorized. 
ASD: Fully Automatic In 3 Axis (X. Y. Z.) With Stepping Motor For Downfeed, And AC Motor For Rapid Up/Down.
MODEL

ESG-3A1224

Table Size

300x600mm(11 13/16x23 5/8")

Max.grinding length

Longitudinal

600mm(23 5/8")

Max.grinding width

Crosswise

300mm(11 13/16")

Max. distance from table surface to spindle centerline

585mm(23")

Stadard magnetic chuck size

300x600m(11 13/16x23 5/8")

Longitudinal movement of table

Max. travel, hydraulic

650mm(25 9/16")

Max. travel, manual

730mm(28 3/4")

Max. travel,infinitely variable

60HZ,5-25m/min,50HZ,5-20m/min

Cross transverse travel

Auto transverse increment

1-19mm(0.04"-0.75")

Max. auto transverse travel

310mm(12 3/16")

Max. manual transverse travel

340mm(13 3/8")

Handwheel per revolution

5mm(0.2")

Handwheel per graduation

0.02mm(0.001")

Sheelhead vertical infeed

Automatic infeed

manual rapid up/down

Step feed (jog)

0.001mm(0.00005")

Rapid travel, Approx

150mm/min

Slow travel, Approx

6mm/min

Handwheel revolution

1mm(0.05")

Handwheel graduation

0.005mm(0.0005")

Grinding spidle drive

Speed

60HZ,1750 R.P.M.; / 50HZ,1450 R.P.M.

Power rating

5.0HP

Standard grinding wheel

Diameter

304MM(12")

Width

31.75m(1 1/4")

Bore

76.2mm(3")

Hydraulic motor

Power rating

2.0HPx6P

Crossfeed motor

Power rating

80Wx6P

Elevating motor

Power rating

80Wx6P

Floor space

Total space required

2700x1600x1850mm(106 1/2x63x73")

Weights

Net weight, Approx.

1990KGS(4378LBS)

Gross weight, Approx.

2290KGS(5038LBS)

Rated power, Approx

 

7.5HP

Packing dimensions

L x W x H

2480x2140x2100mm(98x84x83")
NOTE:
The manufacturer reserves the right to modify the design, specifications, mechanisms, etc., to improve the performances of the machine without notice. All the specifications shown above are just for reference.
GENERAL FEATURES:
1.Column: 
Enlarged, honeycomb-ribbed column especially suitable for heavy duty grinding.
2.Construction: 
Construction of table, saddle and base is casted with high grade iron, strongly ribbed.
3.Spindle: 
Enlarged spindle set is supported by four preloaded precision angular contact Ball bearings for heavy duty.
4.Slideways: 
Vertical, cross (double vess) and longitudinal (one vee &one flat) slideways are coated with Turcite-B, provides stable movement and durable accuracy. 
5.Automatic Continuous Lubrication System: 
All slideways and screws are fully oiled by automatic continuous lubrication system to eliminate wears on slideways & screws. 
6.Cross Feed: 
Ball screw for cross travel, powered by AC motor.
7.Hydraulic Table: 
Table speed ranges 5-25m/min. With rack and pinion table drive for hand operation. 
8.Proximity Switch: 
Provide built-in-type (hidden) proximity switch, features safe and easy operation. 
9.Table Speed Control: 
Presettable hydraulic table speed control allows operator to pre-set speed rate, enable to get same speed rate when engaging hydraulic table every time. 
10.Hand Wheels: 
Zero-setting slip-ring with vernier on vertical handwheel, and vernier on crossfeed handwheel.
| | | | |
| --- | --- | --- | --- |
|   |   |   |   |
| Enlarged Spindle Set For 1020, 1224 Series | Honeycomb-ribbed Column | Table Speed Control For 1020, 1224 Series | Elevating Transmission System |
OPTIONAL ACCESSORES:
 

Electro Magnetic Chuck

 

Inclinable Permanent Magnetic Chuck

 

Coolant System

 

Dust Collector

 

Coolant System With Manual Paper Feeding Device

Auto Paper Feeding Device With Magnetic Separator

Full Guarded Splash Guard (10/12/16 Series)

Electro Parallel Dressing Attachment

Coolant and Dust Unit

Coolant System With Magnetic Separator

Work Lamp

Splash Guard

Wheel Flange

Manual Parallel Dresser

Chuck Control With Demagnetizer

Precision Vice

Punch Former

Balancing Stand (Double Line)

Roller Type Balancing Stand

Micro Crossfeed For 10/12/16 Series

Ratchet Type Electro Parallel Dresser (10/12/16 Series)

Digital Readout

Permanent Magnetic Chuck

Micro Down Feed For 10/12/16 Series

Screw Type Parallel Dressing Attachment

Concave Convex Forming Dresser

Swivel Wheel Guard

Frequency Changer

 

 
STANDARD ACCESSORIES:
| | |
| --- | --- |
| 1. Tool box with tools | 7. Touch-up paint |
| 2. Wheel extract screw & nut | 8. Auto lubrication system |
| 3. Balancing arbor | 9. Diamond dresser |
| 4. Levelling screw with blocks | 10. Crossfed Ballscrew |
| 5. Grinding Wheel | 11. Sweeping plate |
| 6. Wheel flange |   |